WHAT IS THE PIT BULL™ DESIGN?
Let's face the facts: directional drills are only as functional as their HDD transmitters. This is why it is so important to protect your transmitters with a high-quality HDD transmitter housing.
Melfred Borzall has also developed a way to relieve your stress of breaking off a bit downhole. The Pit Bull Blades and Housing (Melfred Borzall Pit Bull™ Design | Learn How the Pit Bull™ Housing & Blade Design Doubles Shear Load Capacity to Your Blade Bolts) design utilize machined dowel pins that can be inserted by hand into the steer-face of the bolt-on housing. Those same dowel pins match up to holes on the directional blade being mated up. This simple feature adds over 100% shear load capacity to your blade bolts since they are no longer taking the force on rotation. This will not only make your bolts last longer, you never have to worry about them rattling loose, or backing out either.
These nearly indestructible HDD drill bits & blades are built to withstand all the tough spots and rough patches Mother Nature throws in your way. Whether you're drilling into gravel or dirt, Melfred Borzall has the right directional drill bit or blade for your project. Most of our blade & bits are compatible with our FastBack® pullbacks devices and all blades are compatible with the Pit Bull Design.
---
HORIZONTAL DIRECTIONAL DRILL (HDD) HDD TRANSMITTER HOUSINGS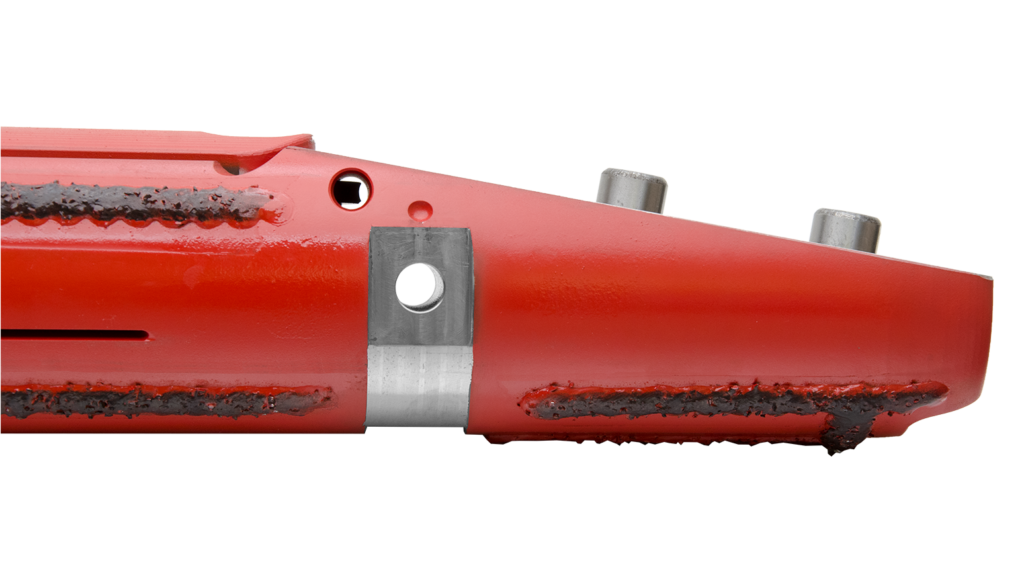 The bolt-on SD Housings are compatible with the Pit Bull™ feature and the Melfred Borzall patented FastBack® Solution for direct pullback. These tough-as-nails transmitter housings are our premium offering and feature-rich. Heat-treated alloy steel provides maximum strength and durability. Keep everything tight and secure while in use with our double locking lid bolts. The SD Housings are compatible with any Ditch Witch® or Vermeer® bolt pattern.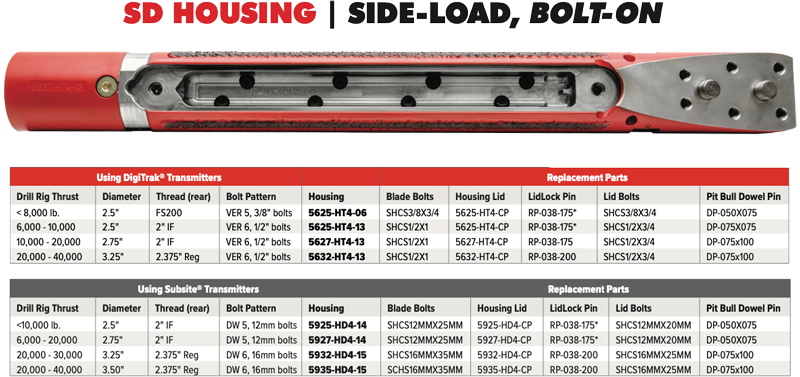 ---
PRODUCT FEATURES
Precisely-placed lid slots for signal strength
Heat-treated, alloy steel for maximum strength
Large lid tabs to lock into place
Fastream® compatible for use with the Fastback® System
Newly-designed & more compact dual SuperNozzles
Shock-absorbing internal rubber bumpers in sonde cavity
Shock-absorbing rubber bumpers in the lid
Chunky hardfacing on high-wear areas
Integrated supplemental MudBoostTM port for extra fluid flow
LidLock roll pin keeps the lid securely in place
Pit Bull blade locking feature (bolt-on only)
Enlarged water intake for enhanced SuperNozzle flow
Engraved lid part number in sonde cavity
Chamfered & Radiused edges for easy lid removal
---
EVERY RED DIAMOND BLADE IS COMPATIBLE WITH PIT BULL™ TRANSMITTER HOUSINGS.